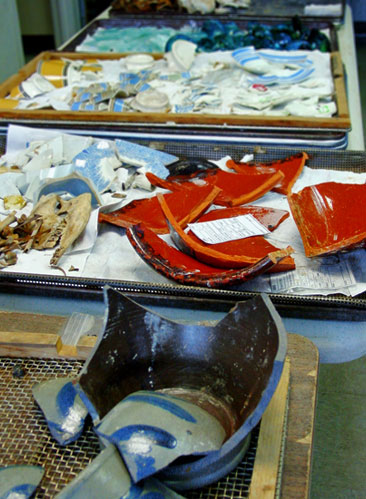 Archaeological Laboratory
Artifacts inform us on aspects of the daily life of people in the past and help us understand how cultures change and develop. The staff of the AECOM Burlington laboratory routinely process and analyze prehistoric and historic artifact assemblages for reports and publications. Our fully equipped laboratory contains 6,500 square feet of space dedicated to areas for washing, labeling, cataloging, analysis, photography and the basic conservation of artifact collections.
Within the last decade over two million artifacts have been processed by the AECOM Burlington laboratory staff. We have worked with numerous assemblages excavated from sites in New Jersey, Pennsylvania, New York, Delaware and Maryland, in addition to collections from other parts of the eastern United States, the Midwest, and the Caribbean. Our clients include state and federal agencies, in particular departments of transportation, the National Park Service, and corporate entities. Our laboratory staff has extensive experience with prehistoric artifacts from sites spanning 12,000 years of human habitation in North America (Paleo – Contact period). Our work with historic-period assemblages recovered from small domestic sites, large urban areas, early industrial sites, military battlefields and cemeteries has revealed aspects of everyday life and industrial operations dating from the late 17th to the mid-20th century. The poster series we developed, Telling Time for Archaeologists, is used in educational institutions and archaeological laboratories across the country.
Our archaeological laboratory services include:
Processing and researching collections from the time they leave the ground until they are delivered to an authorized repository.
Generation of computer catalog of artifacts including information on: identification, function, manufacturing technology and date of manufacture.
Analysis of the relationships between site contexts and documentary records.
Providing a coherent report incorporating context and artifact information.
Creation of public outreach materials, temporary displays, museum exhibits and interpretive signage using excavated artifacts.
Research and design of the "Artifact of the Month" post-card series (see post-card gallery).